by Elisa Kammerdiener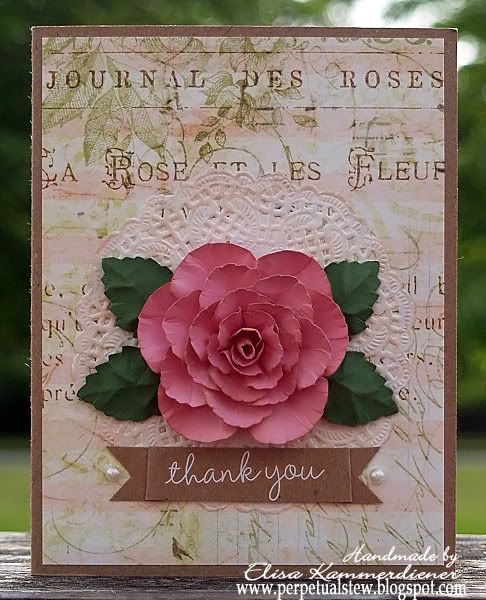 McGill Paper Punches:
-64503 Paper Blossoms Floral Petals
-64502 Paper Blossoms Birch Leaf
-64500 Paper Blossoms Alpine Snowflake
-65800R Tool Kit
-65900R Molding Mat
Additional Supplies:
-Bazzill Smoothie Cardstock
-Kraft Cardstock
-Pink Paislee Pattern Paper
-Pebbles Inc. Rub-ons
-Queen and Company pearls
-Paper Doilie
-VersaMagic Creamy Brown Ink
Creating the Floral Rose:
Click for full printable PDF
Card Instructions:
Trim cardstock to 8.5"x5.5" Fold in half to create card base.
Trim Pattern paper to 5.25"x4". Adhere to card front.
Ink doilie. Adhere to center of card
Create Rose per Floral Rose instructions. Feel free to ink the edges of the petals before you form them if you like. When rose is created adhere it to center of die cut.
Create a banner with a scrap piece of cardstock. Apply rub-on sentiment. Adhere to card.
Embellish with 2 Queen and company pearls.
Here is a close up of the rose.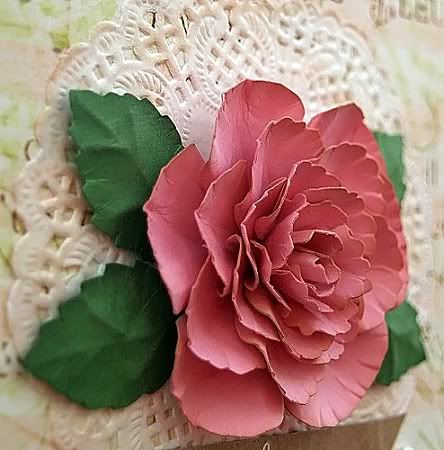 Be sure to leave a comment for a chance to win the punches that create the Floral Rose. All you have to do is leave a comment on any or all the posts from now until Midnight June 28th letting us know what you thought of our projects from now till then. The more comments you leave the more times you will be entered into the drawing. So comment every day for more chances to win. Also if you are a follower of our blog or facebook let us know and we will enter you in for each site you follow us on. Plus If you follow our designers blogs let us know who and we will enter you in for each designer you follow. We will draw a lucky winner on the morning of June 29th and announce it on the blog.
As Always we would love to see what you are creating with any of our McGill Paper Punches so be sure to leave us a comment with a direct link to your project.
Till next time, Happy Crafting